Live Music for the Homeless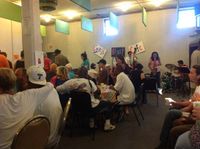 Imagine having no music in your life.  No radio on the way to work, no iPod when you are exercising, no concerts, no music to accompany dinner at your favorite restaurant and parties.  That is what it is like for the homeless.  Imagine how stressful it is to have no home, adequate food, medical care, etc. Imagine how stressful it is to be homeless, worrying constantly about where to take a shower, use the bathroom, about how to stay safe on the street.  They never have the opportunity to meet friends, sit down in a safe environment and just listen to some good music. 
  
Now there is an innovative program created by Bruce Frankel, the Director of the Day Resource Center in Fort Worth, Texas – the Cypress Street Café.  The Day Resource Center is a day shelter that serves as many as 600 people daily in the city's homeless district. Once a month the Day Resource Center opens its doors in the evening and becomes a coffee house/night club.  Here the homeless have the opportunity to met their friends and listen to music provided by some of North Texas' top musicians.  Jazz, Rhythm and Blues, Country, Folk – something different each month.  Musicians are donating their time and talent so that these people can, at least one night a month, relax, forget about their struggles and enjoy great music. 
  
Cypress Street Café began a few months ago drawing 30 to 40 people for the once a month concert.  Now it regularly draws more than 100.  "Good coffee, good cake and good entertainment.  What more could you ask for?" said guest Kelly Pennington, 61, cutting into a slice of cake.  "We love it." 
  
One homeless woman at the café who identified herself as "Tinkerbell" said it was the only safe place to hang out after dark.  "There is just really no place to hang out." She said.  "I heard about this and thought it was great.  We're all having fun." 
  
This is a comment from one of the Musicians, Candy Williams, who shared her talent for the evening. 
  
Hello, peace and blessings to YOU! The PM Jazz Combo from Collin County Community College (I'm in it!) performed for the clients of the Day Resource Center in Ft. Worth tonight. People who have to call "shelters" their homes. They were the best audience, they danced, they gave their love, and they reminded me of why I sing. We played "Moanin'" with me on vocals, and I just had to cry, so I did.... I ain't got shit to moan about, really, and I chose that word on purpose! Those folks blessed ME with their comments, conversations, and smiles. BIG thanks to Diva Jennifer Martin for giving her love in coordinating this monthly event, and thank you PM Jazz Combo for giving your God given talents for NO MONEY in doing the good work. This has been a very grand day! And good night!
  
The shelter does not have extra money to spend for these monthly concerts so it relies on volunteers.  Several Churches provide refreshments, coffee, soft drinks, cakes and cookies.  And the staff volunteers extra hours to assist. 
  
The Day Resource Center opened in 1999 offering homeless people showers, storage, laundry, mail service and help with jobs and housing.  Check out their website at www.fwdayresourcectr.org/  

"One of the main deterrents to evening activities for the homeless is that they have to be in their shelters at a certain time, usually 7 p.m.," Jessica Grace, staff member who coordinates these evenings, said. "So we worked out an arrangement that if they attend Cypress Street Cafe, we give them a late pass that verifies they were here and they can get back into the shelter." 
Shelter staff members and the contributing musicians hope that on Cypress Street Café nights their clients don't feel like homeless people.  "There are no labels," Frankel said.  "They're just friends meeting for a cup of coffee and great music!" 
  
Interested in helping?  Use the CONTACT on my website. 
  
Here is a list of some of the fantastic North Texas Musicians who have volunteered their time and talent:  Shelly Carroll,  Bregett Rideau, Freddie Jones, Tatiana Mayfield, Victor Cager, Mario Cruz, Gale Cruz, Candy Williams, Jay Gewertz, Paul Miller, Mike Garvey, Tony Key, Jeff Eckels, Duriye, Quintine Perry, Carolyn Lee Jones, Marty Lowly, Kent & Kay Ellingson, Pam & Tom Burchill, Gwynne Johnson, and more!